Hedonism II @ Negril, Jamaica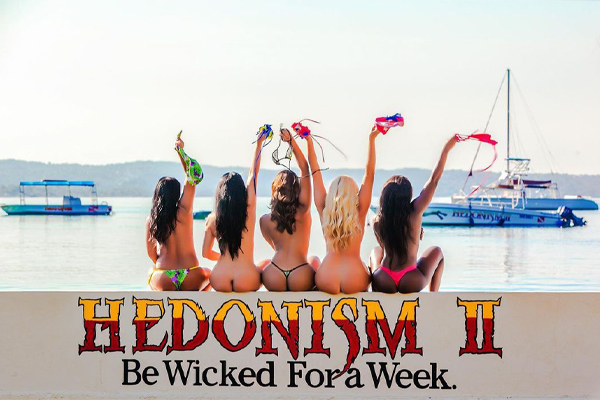 Hedonism II Jamaica Resort
Hedonism Resort may be about the best known lifestyle resort in the world. The resort is billed as, "a clothing optional adult playground and the sexiest place on earth." It is an all-inclusive property where everything is included in one price. Located in Jamaica on the northwest end of the island about a hour and a half from the main airport. The resort has areas reserved for naturism and it is known for its sexually liberal culture. As of 2020, only Hedonism II is in operation. There was never a Hedonism I, and Hedonism III closed in 2010. Hedonism II opened in 1976 as "Negril Beach Village" and was given its current name in 1981; it was built by the Government of Jamaica at a cost of $10 million and it occupies 22 acres and has 280 rooms in two-story buildings.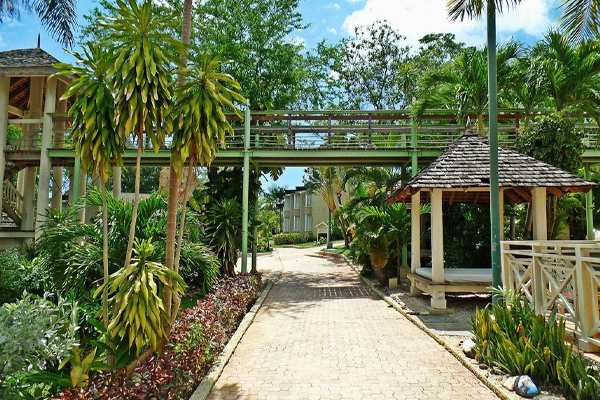 Quiet walkways can be found.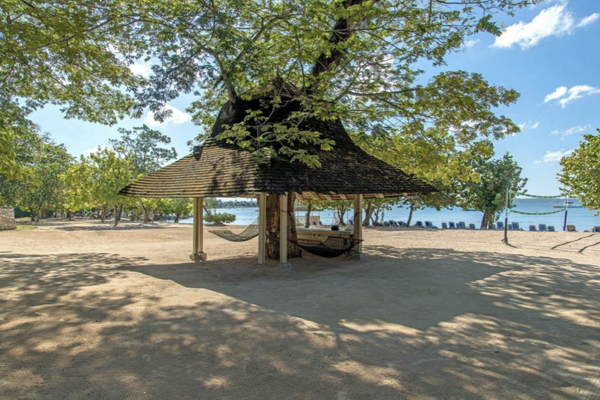 The beaches are as mild or wild as you like.
On the property you'll find plenty of areas to stroll and relax as well as two beach types. One side, known as PRUDE, is for the clothing people and the NUDE side is basically what it sounds like. The pools are divided up that way too. You are in charge as far as mild or as wild as you wish to be. Indulge in all the allure life has to offer. Tantalize all your senses from the scent of a crisp ocean breeze to the taste of a favorite top-shelf cocktail. Indulge in gourmet meals crafted by award-winning chefs. Feel the sand beneath your toes, the brilliant sun as it envelops you with its glow and take in the panoramic vistas of Jamaica's world-renowned 7-Mile Beach.
Among the water amenities you'll find scuba diving, hobie cat sailing, windsurfing, snorkeling, kayaks and paddleboards. Hit the pools and enjoy the energy of the swim up bar at the nude pool or steal away quiet moments in the tranquility of the waterfall lagoon. On various spots of Hedonism you'll also be able to utilize tennis courts, volleyball, shuffleboard, ping-pong tables, secluded hammocks for "relaxing," a game room and reading room, a complete fitness center and outdoor gazebos. There is also a "boob" cruise of sorts that sails down to the local cave area to watch cliff divers or you can swim into the caves.
Outdoor massages in a thatched hut.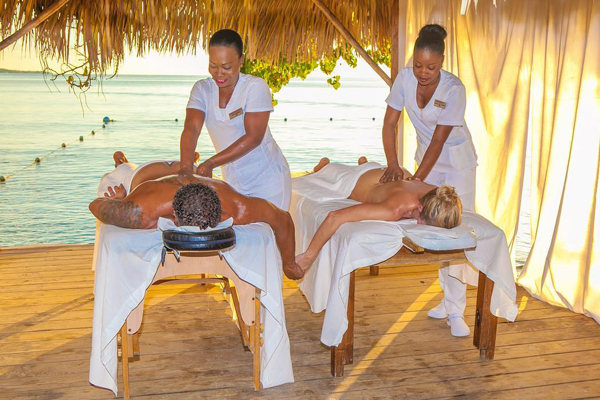 Couples or singles massages.
Let's talk about the spa. The Hedonism Spa is known as the Blue Mahoe Spa. You're going to want to visit this. The Blue Mahoe's body treatments, scrubs, and massages offer a buffet of full-body indulgences that will engage all of your senses and energize your spirit. Find inner peace with a Zen Massage that blends the best of multiple massage techniques or treat yourself to sensual Sweet Sensation body wrap. To experience the full potential of your stay at one of the most breathtaking couples resorts, you and your partner won't want to miss getting a Sunrise/Sunset massage. This specialty treatment combines the beauty of our ocean-side atmosphere with the ecstasy of your skilled therapist's hands kneading your troubles away.
There are various room types at Hedonism. Aside from the prude and nude (au natural) side choices, you'll have ocean and garden view choices. Then you'll have premium and classic choices. Premium rooms are updated while some of the classic rooms have not been updated in quite some time. Rooms with hot tubs are all the ground floor and run about 15-20% more than a regular room. All of the rooms come with mirrored ceilings.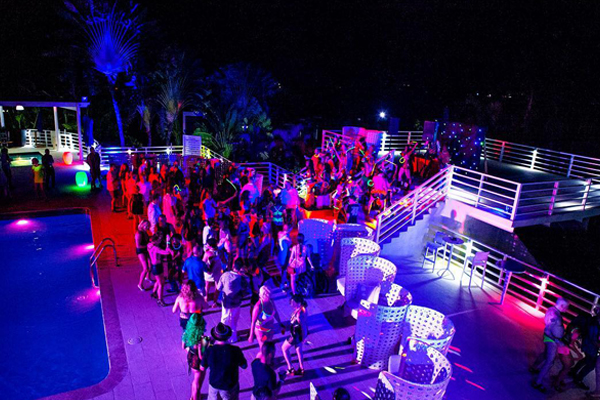 Dance and watch the nightly entertainment.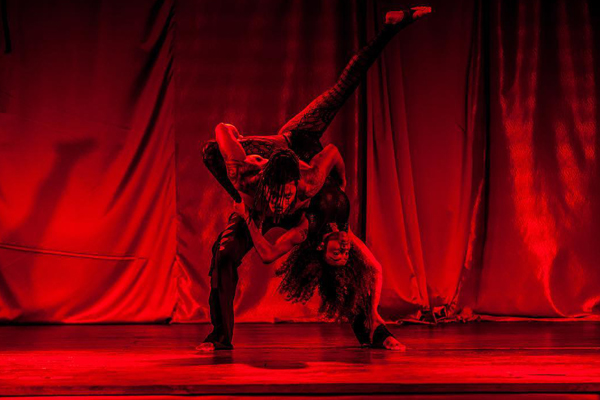 Nightly entertainment is always sexy.
How about entertainment? The entertainment program is loads of fun and always sexy. Hedonism II shows have talented crews take you on voyeuristic journey of hidden passions, sensuality and seduction. You will see sexy acrobatics and dances, talented singers, musicians and dancers performing unique engaging routines in extravagant costumes. There is a live band every night (except Wednesdays) on our center stage in the Main Terrace Dining room. Finally, if the laid-back lounge scene is more your thing, come sing along with newfound friends at the Piano Bar or Karaoke on Tuesdays.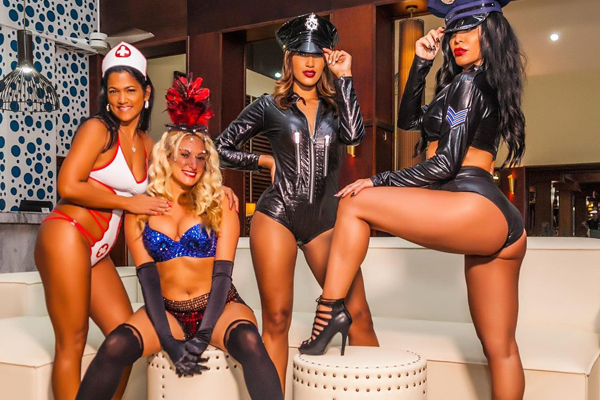 There is a sexy theme night each and every night.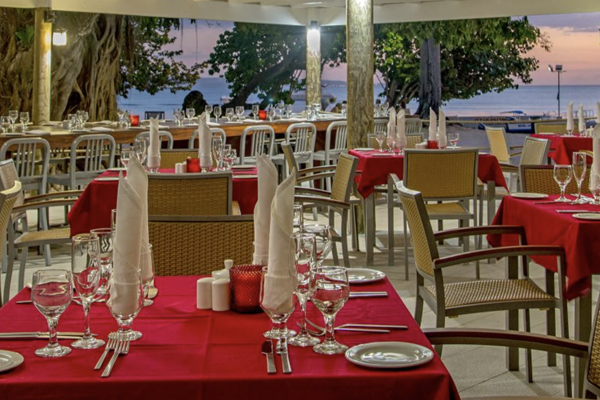 You'll have no trouble finding excellent food.
Every evening you will be invited to discover a sensual themed adventure, a seductive twist on reality, provocative, playful and an opportunity to experience the forbidden. Leave inhibitions behind you, let loose and live out your fantasies. Themes range from JAMAICA NIGHTA – Jamaica themed party, BARE AS YOU DARE GLOW POOL PARTY – all things glowing, blinking and flashing, FETISH NIGHT LEATHER & LINGERIE – dress in leather & lingerie, TOGA & FOAM PARTY – sexy togas followed by an 11pm foam party, ROCK STAR – rock star fantasy attire, SEXY SPORTS NIGHT – whatever sport that turns you on and of course HEDONISTIC SCHOOL GIRL – wear your sexy short plaid skirts. Themes can change often so check the website for current themes so you can pack accordingly.
Hedonism II chefs and bartenders create a delectable array of dining and premium beverage options – from Asian, to Italian to an American-style Chop House. Enjoy the Beach Grills (clothing and non), Flame which is outdoor and casual, the Dining Terrace used mostly for buffet breakfast and lunch, Pastafari – dinner Italian food with a Jamaican flair, Harrysan where you'll find Japanese Hibachi and finally on Fridays participate in food around the pool with the Grand Gala Extravaganza.
Let's talk about the sex. During the day you'll find the nude pool and hot tub area (complete with waterfall grotto) very popular. You have to be nude in this area and you will see people having sex. You can also participate in the foam pool parties – there may or may not be some touching. After dancing in your sexy theme outfits, you'll want to visit the "Romping Shop" playroom which is open to couples, single women and invited single men. By the way – "Romping Shop" is the name of a very popular Jamaican song; aside from your mirrored ceiling room, this is where you will find the most sex.
Some Inspiration About Hedonism II Resort