Union Station Hotel @ St. Louis, Missouri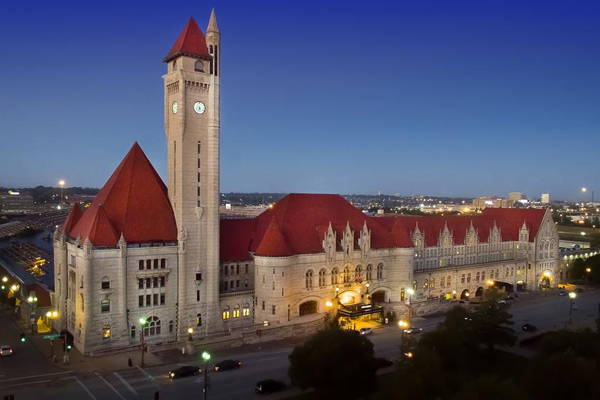 St. Louis Union Station Hotel, Curio Collection by Hilton
If you like trains at all, you'll love the Union Station Hotel. A multi-decade renovation has brought this historical building – once the transportation hub of St Louis – back to life. The Grand Hall has long been the hotel's crown jewel, featuring 65 ft-high barrel-vaulted ceilings, intricate artwork, and a nightly light show. Whether you choose to stay here or not (and we advise you do, not just for that hall but for 539 spacious, beautifully styled rooms, a huge 24/7 gym, and an outdoor pool), it's worth swinging by for a drink. Besides its stunning interiors, the hotel is right in the heart of downtown and, Hockey fans take note, the Blues play next door.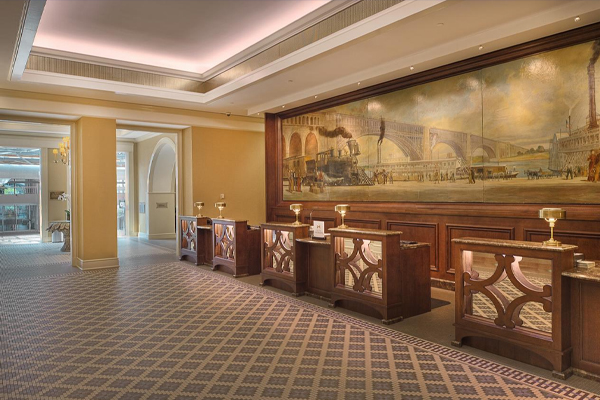 Check in for the hotel feeling like buying a train ticket.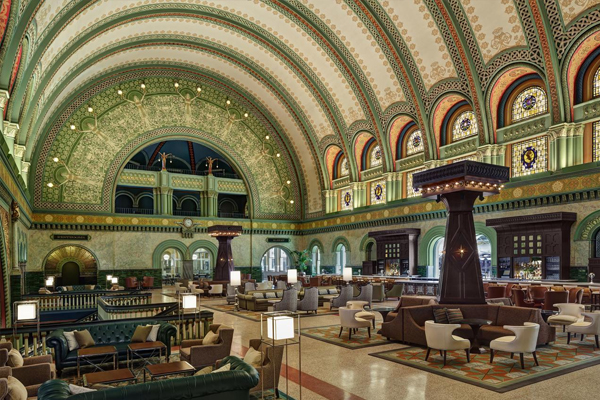 The Grand Hall, a former waiting room, serves drinks at the bar.
From the moment you check in until you find the Grand Hall, this 19th century former Union Railway Station oozes history. The lobby with Tiffany stained glass windows is a delight. The Grand Hall Lounge serves cocktails and appetizers every evening. There is an outdoor swimming pool and fitness center. Busch Stadium, home of the St. Louis Cardinals, is 1 mile away. The Lambert – St. Louis International Airport can be reached in 19 minutes' drive.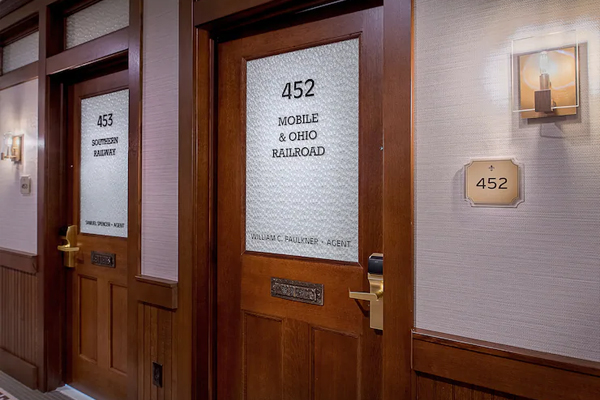 Clock tower suites throwback to train station days.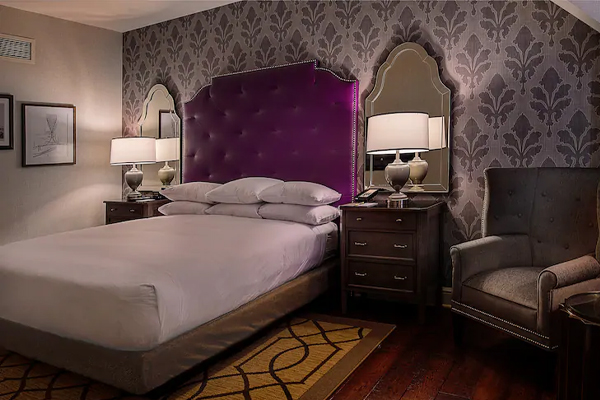 Pegram Luxury Suite, located in the exclusive Grand Hall wing.
Aside from the Junior and King Suites, we like the Superior King with the fountain view. The room is a little more spacious than standard and the cost difference isn't very great. Mostly the room sizes are comparable. If you can, get the Clock Tower King Studio; you can get a high floor with a bit of a view and the rooms feel like a slightly more throwback to the train station days. The best you can do is the Pegram Luxury Suite, located in the exclusive Grand Hall wing and named for George H. Pegram who designed St. Louis Union Station's historic Trainshed. With a view of the Trainshed itself, the Pegram Suite is loaded with premium features.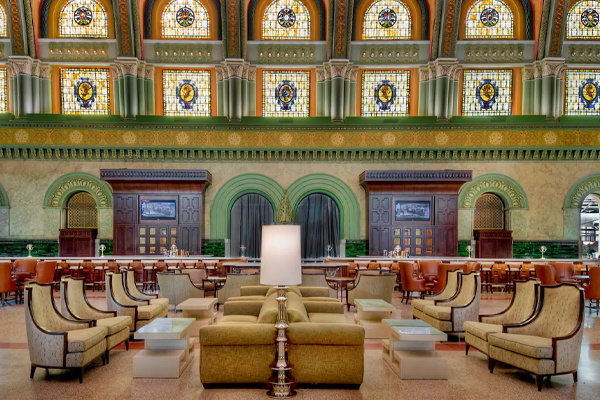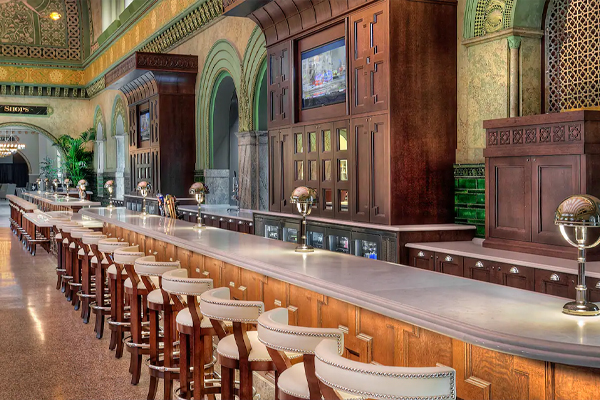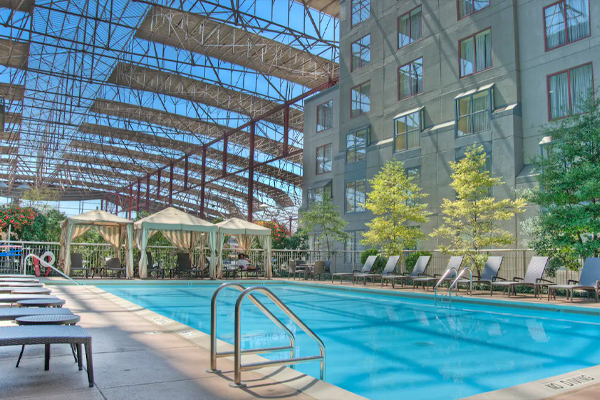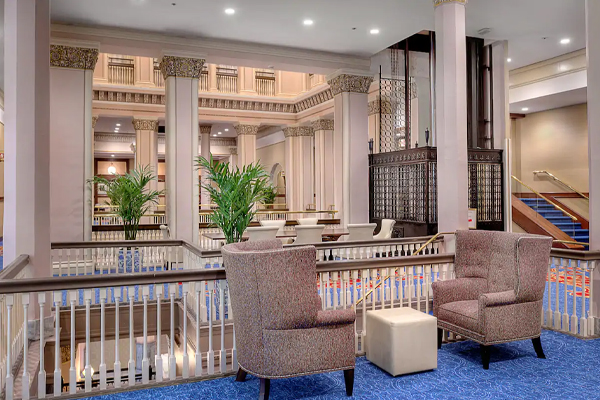 Explore the hotel, have a drink at the Grand Hall Bar, take a dip in the giant pool or take advantage of the workout room. If you look closely enough you'll spot some familiar movie hints – the movie "Escape From New York" was filmed here.
Of course the Union Station Hotel is just a piece of the Union Station experience. Behind and adjacent to the hotel is the St. Louis Aquarium, The St. Louis Wheel which is some 200 feet high, and the St. Louis Union Station Carousel to name but a few of the attractions.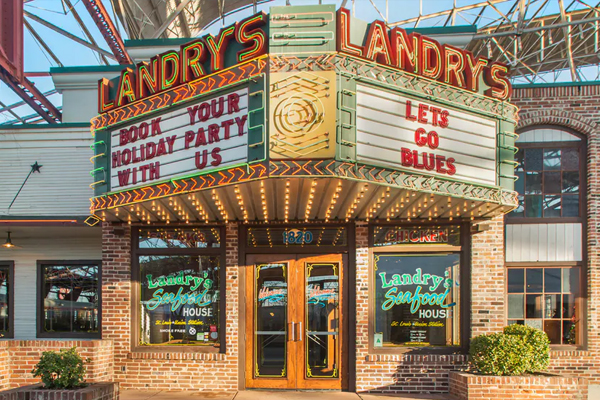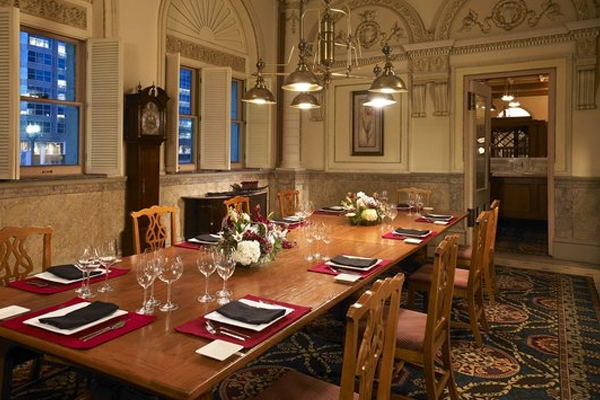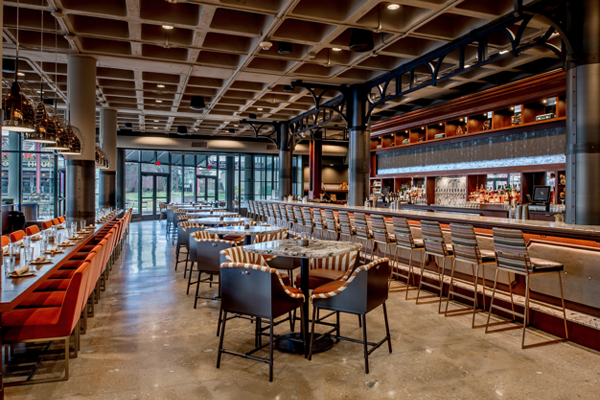 As for food, within steps is The Train Shed, where you can get a steak and martini and Station Grille, serving standard American fare. There is also Landry's Seafood House, a chain restaurant which serves some wonderful fish dishes.
Some Inspiration About St. Louis Union Station Hotel: