Where to Eat in Las Vegas: Classic & New Alike
For most travelers to Las Vegas you might not ever leave your hotel to eat. And that is just fine – depending on your hotel. There are some great places to dine in the mega hotels of Mandalay, MGM, Caesars and the like. And generally, you can't go wrong. But for those visits when you're seeking some old Vegas or perhaps the best of Vegas, this list is for you.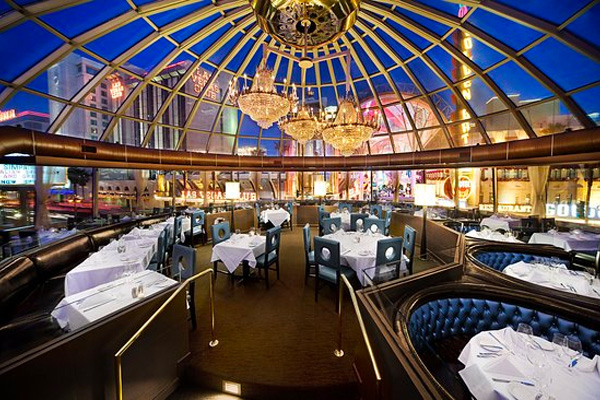 Oscar's Steakhouse
Named after former Las Vegas Mayor and mob attorney Oscar Goodman, Oscar's Steakhouse is a glamorous and uniquely Las Vegas Steakhouse overlooking the lights of Fremont Street. Located inside the Plaza Hotel's iconic glass dome, Oscar's pays homage to the Vegas of yesteryear and has become a must-visit, only-in-Vegas dining destination thanks to its classic ambiance, memorabilia displays, handcrafted cocktails, including the former mayor's signature martini, and a delicious menu of perfectly aged steaks, fresh seafood and made from scratch sides. Carrying over Goodman's reputation as the "Happiest Mayor in the Universe," Oscar's affectionately boasts itself as "The Happiest Steakhouse in the Universe." The approach to food and service at Oscar's is the same as Goodman's approach to life – eat, drink and have fun!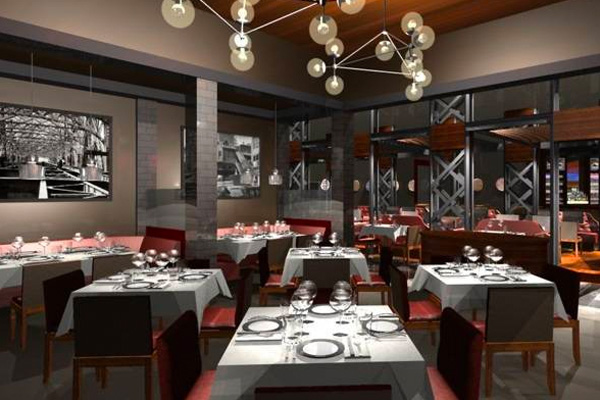 Old Homestead (Caesars Palace)
A bit of East Coast steakhouse tradition is reinvented at Caesars Palace with the Las Vegas outpost of New York City landmark Old Homestead. Brothers Marc and Greg Sherry, whose family has been associated with the original Old Homestead (est. 1868) for decades, let Vegas get a taste of its fine cuts and legendary history. Many beloved American favorites are featured here, such as applewood smoked bacon, calamari, Kobe meatballs, warm doughnut bread pudding and New York-style classic cheesecake. Ranging from the New York Strip to Porterhouse for Two, this eatery has standouts as famous as the cuts of meat, selected and butchered with attention to detail that made the original so famous.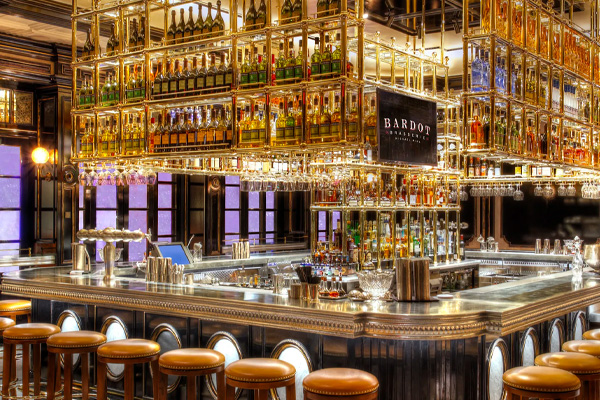 Bardot Brasserie (ARIA)
The space at Bardot Brasserie will make you feel that you've walked through a portal into Paris. But owner Michael Mina takes brasserie classics and elevates them. The onion soup, for example, comes with cave-aged gruyere and if you're feeling indulgent, you can add short rib, black truffle, and a poached egg to it. Eat it sitting at the bar with a newspaper and you'll forget where you are. Best on a cold winter night (yes, it gets cold in Vegas) with someone who's willing to break from their diet and dive headfirst into the country bread with beurre d'echire A.O.C. butter and keep going through the cheese plate.
Peppermill Restaurant
A timeless must-visit stop on the Las Vegas strip! The Peppermill Restaurant and Lounge is a classic with a cool atmosphere, unique drinks, and amazing food & desserts! Featured in numerous movies, this vintage Las Vegas bar and restaurant has been open since 1972. Peppermill has retained its "Old Vegas" ambiance. This classic Vegas restaurant pays homage to the prior eras of the Strip when a hearty breakfast served round the clock was a standard feature of most Las Vegas restaurants. Ham, sausage, turkey sausage, bacon, chorizo, or a steak go along well with a plate full of eggs, bread, or hash browns. You'll find other breakfast staples like Eggs Benedict and biscuits and gravy. The Bloody Mary is legendary here (and made entirely from scratch) and is the perfect accompaniment to your breakfast.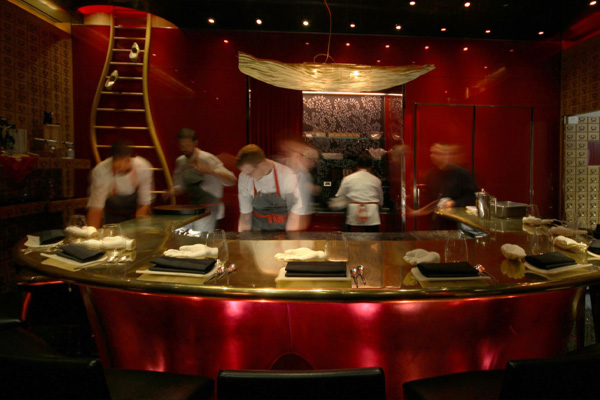 é by José Andrés – Cosmopolitan Hotel
é by José Andrés (Cosmopolitan Hotel)
Tucked away in a small private room adjacent to Jaleo's bustling bar and paella grill, é by José Andrés offers a clever and creative tasting menu of Spanish avant-garde dishes. Accessed through a glass door emblazoned with the letter é, the room is dominated by a steel-topped bar with seating for nine. Set against a dramatic red glass wall and red velvet curtain, the space is a nod to the chef's concept of cooking as performance. Tickets to é by José Andrés become available three months in advance. Open Wednesday through Saturday with two shows per night, at 5:30 PM and 8:30 PM. If your desired date is not available feel free to place your request on the waitlist.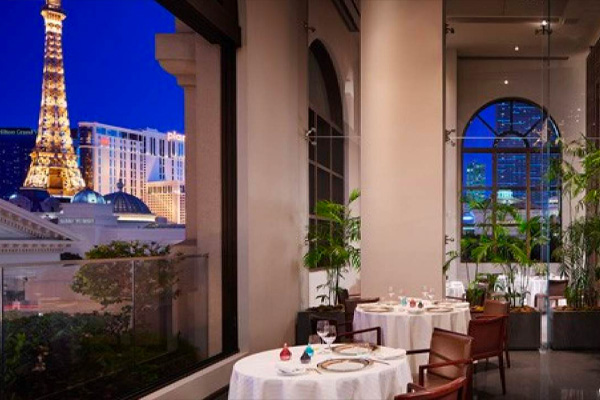 Guy Savoy – Inside Caesar's Palace Hotel
Guy Savoy (Caesar's Palace)
Guy Savory is sister to another Top 100 Restaurant pick, the Paris restaurant of the same name. This acclaimed fine dining restaurant in Las Vegas is located in the Augustus Tower of Caesars Palace hotel. Serving classic French dishes created by the famed chef, Guy Savoy, as well as seasonal menus. The Caviar Tasting Menu is a must for its Colors of Caviar and oysters – the restaurant now even has a separate Caviar Room for a seriously indulgent experience. Each Guy Savoy creation is subject to the scrutiny of the eye and the senses of smell, taste and touch. Seasonal ingredients are combined to make their flavors come together in perfect harmony.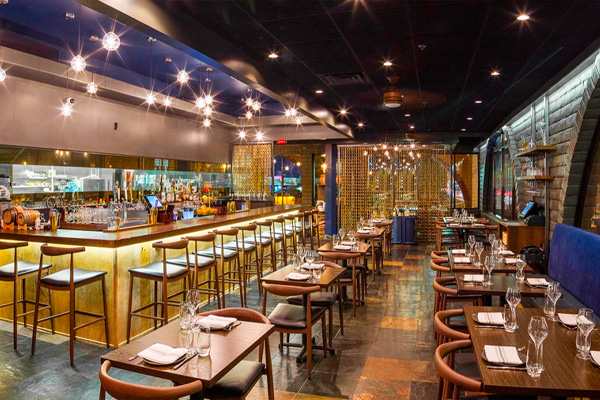 The Sparrow & Wolf – 4480 Spring Mountain Road
The Sparrow & Wolf
Sparrow + Wolf's menu takes inspiration from the chef's travels, his training and his Midwestern upbringing. Seasonal ingredients, great drinks, and a welcoming neighborhood vibe come together here. The changing menu features a variety of dishes inspired by the seasons. Shareable plates might include dishes like oysters on the half shell, grass fed beef tartare, a house charcuterie board or Hamachi crudo. The Chef's Tasting Menu is a steal at $135 per person but you'll find a la carte selections as well. The drink menu includes wine, beer and a selection of unique cocktails like the Death Star with El Tesoro Blanco, Lemon Hart Spiced Rum, lime, Ume syrup, Velvet Falernum, orgeat, OJ and Angostura bitters.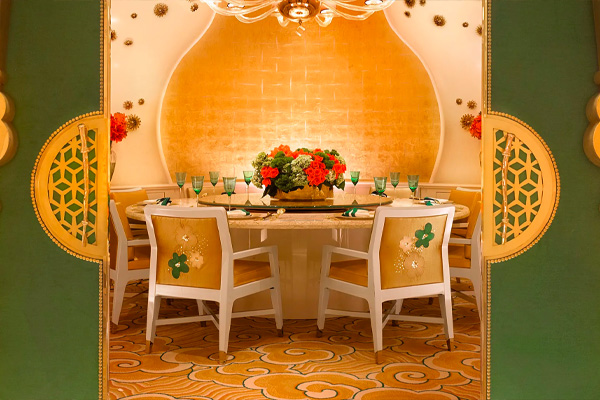 Wing Lei – Inside the Wynn Hotel
Wing Lei (Wynn Hotel)
Wing Lei was the first Chinese restaurant in the United States to be awarded a Michelin star, and you'll understand why as soon as you take a bite—the food is absolutely show-stopping. Set in a dining room the bursts with bright white, jade, and gold colors, Wing Lei attracts diners looking to celebrate a special event in style, with beautifully made signature cocktails and the must-have Imperial Peking duck. Chef Ming Yu blends the flavors of China with Western techniques to create a singularly delicious cuisine. You'll be reminded of the idea of 1930's Shanghai while dining – every inch of this restaurant has been meticulously planned and lovingly crafted, from the ultra-plush, deep tapestry chairs and to the gold-tipped black chopsticks that grace the table settings.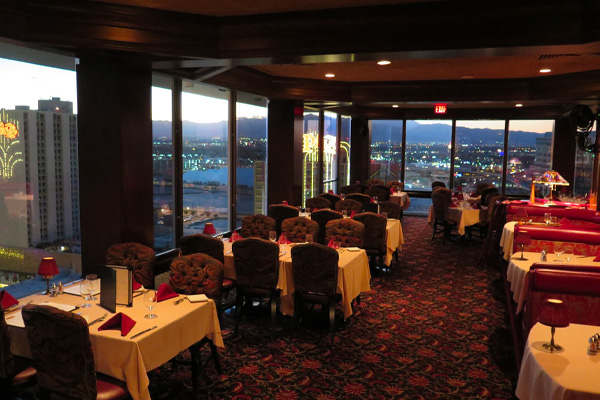 Top of Binion's Steakhouse – 128 E. Fremont Street
Top of Binion's Steakhouse
Top of Binion's Steakhouse is perched atop downtown Las Vegas with amazing views of the Vegas skyline. A perfect place to enjoy a romantic sunset dinner immersed in vintage Vegas decor. Located on the 24th floor of Binion's Gambling Hall & Hotel, this gourmet restaurant is a quintessential spot to enjoy Vegas the way it used to be in a romantic atmosphere with first class service. Delight in signature steaks, aged a minimum of 28 days that come from pasture raised Creekstone Farms. Enjoy the Rib Eye, Filet Mignon, Prime Rib of Beef, or the 21 ounce Porterhouse Steaks along with wine paired to compliment your dish. The downtown steakhouse also features a hugely popular signature dish of Chicken Fried Lobster. A dining experience that you won't soon forget.
Some Old School Vegas Restaurants: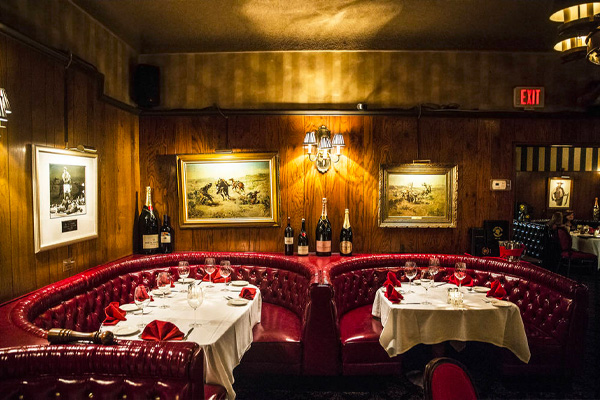 Golden Steer Steakhouse
From Elvis, Sinatra and Muhammad Ali to modern regulars like Mario Andretti, anyone who's anyone has eaten at the famous Golden Steer Steakhouse – Las Vegas' oldest steakhouse. Walking through the doors, you are instantly transported back in time with red leather banquettes, intimate lighting, and old-west art. Enjoy prime-aged steaks in a truly authentic old-Vegas dining atmosphere.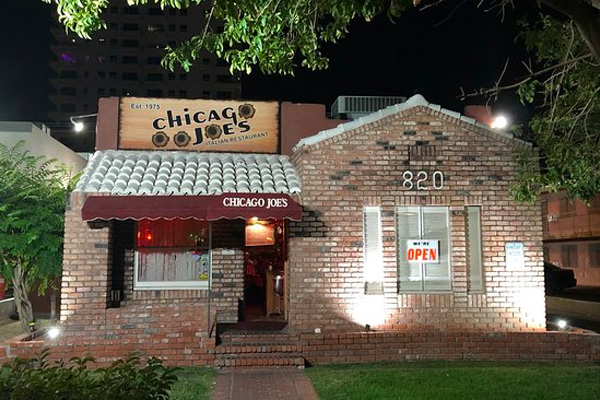 Chicago Joes
In the middle of all the glitz and glamor of Las Vegas lies Chicago Joe's Italian restaurant. The exposed brick walls paired with red and white vinyl tablecloths of this cozy eatery will make you feel right at home. Christmas decorations that stay up all year long add a fun touch to the décor. All the homemade Italian entrées featured on the menu at Chicago Joe's come with a large salad or cup of soup.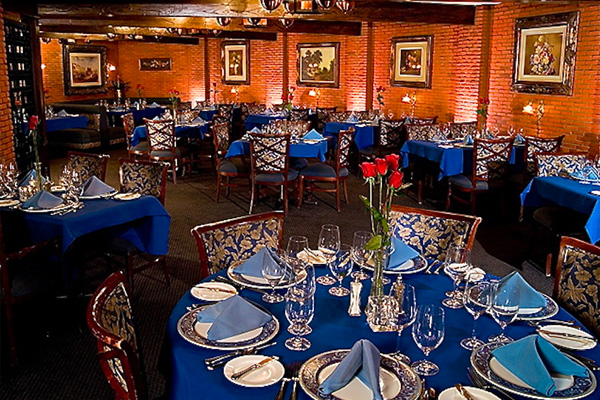 Hugo's Cellar
Hugo's Cellar is a romantic setting for gourmet dining. Ladies are greeted with a long-stemmed rose. The old-style Vegas menu features a table side salad included with entrees. Their specialties include black Angus beef, veal, duck chicken, flown-in-fresh seafood. Finish your meal with a table-side flambeed desserts and delights of white and dark chocolate dipped strawberries, apricot and figs.
Some Las Vegas Eating Instagram Inspiration: