TWA Hotel @ JFK's International Airport
When the TWA Flight Center opened in 1962 at New York's John F. Kennedy International Airport (then called Idlewild Airport), the jet age was just beginning. The Eero Saarinen–designed building wasn't completed until after the architect's death in 1961, but it remains one of his most well-known projects, along with the Washington Dulles International Airport and St. Louis's Gateway Arch. The terminal closed in 2001—along with its namesake Trans World Airlines — because it could no longer support the size of modern airplanes.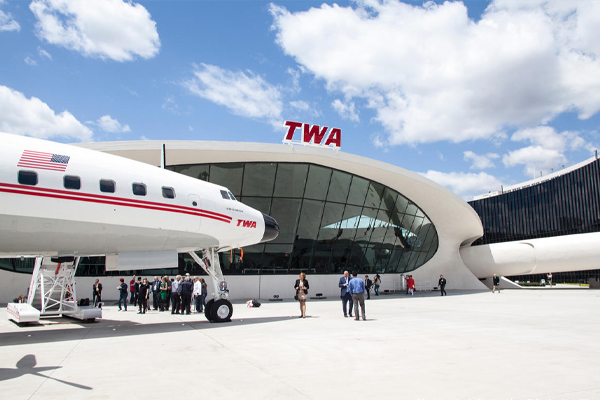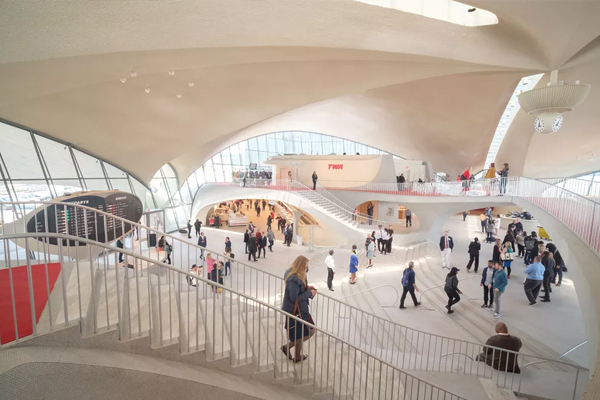 Getting to the TWA Hotel
Located directly across from JetBlue's Terminal 5 at JFK, the TWA Hotel is accessible via car, AirTrain, or directly from the arrivals level of the terminal. The simplest way to enter the hotel is by having a car drop you off directly in front of the property. If you're arriving via public transportation, take the AirTrain to the Terminal 5 station and follow signs into the terminal and down to baggage claim. From there, you'll see signs for the TWA Hotel, which will lead you to a special elevator that takes you directly up to the hotel's iconic flight tubes and into the lobby area. While it's a little complicated, there are fun details to keep an eye out for along the way, like elevator buttons for "Present Day JetBlue" or "1960s TWA Hotel" instead of "Level 1" and "Level 2" and a recreation of TWA-owner Howard Hughes's office.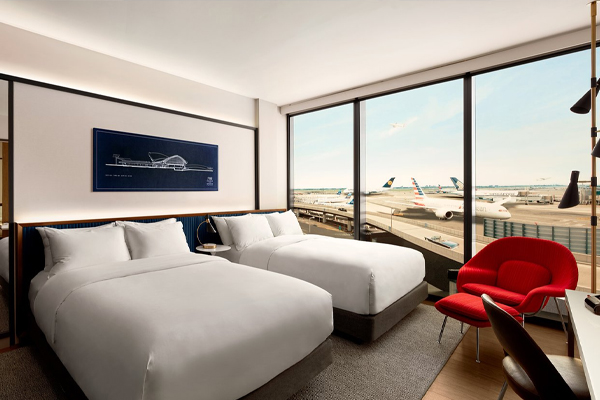 There are 512 guest rooms. The rooms feature other aesthetically pleasing details like tambour walls and walnut martini bars made by a family-owned business in Ohio's Amish Country. The minibar is stocked with period-appropriate snacks. Be careful though: it's lined with sensors, so if you remove a beverage for more than 30 seconds, your account will be charged. Don't miss the main level display of 43 TWA travel posters from the 1950s and '60s that are icons of the jet age.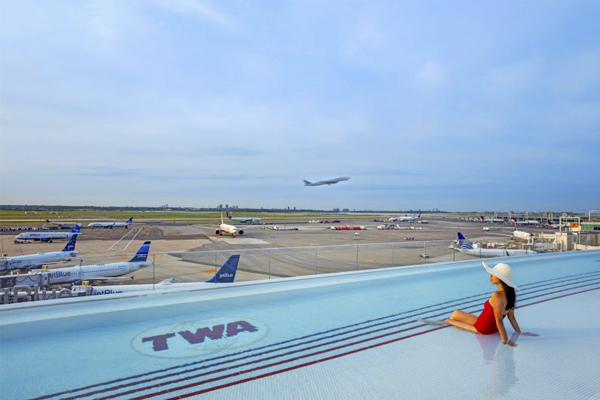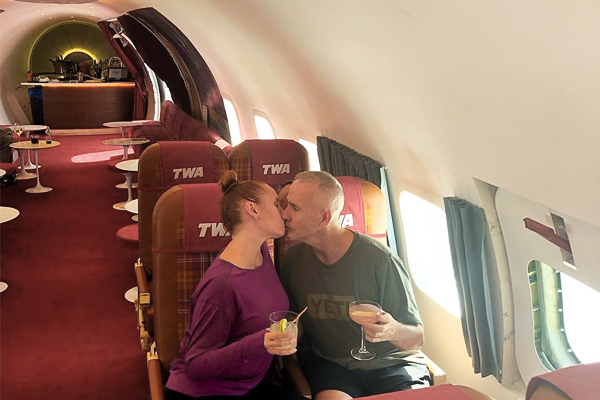 The pool and bar are open to hotel guests from 7 a.m. to 11 p.m. Non–hotel guests can make reservations to order refreshments and swim in the pool between 11 a.m. and 8 p.m. In October 2018, a meticulously restored Lockheed Constellation L-1649A airplane from the 1950s was moved from Maine's Auburn-Lewiston Airport to JFK. The 1958 plane has been repurposed into a cocktail lounge outside the new hotel. No detail has been overlooked here—in addition to four large banquettes, there are also eight vintage airplane seats reupholstered with a retro pink and orange plaid fabric that guests can sit in.