A Jet Charter That Can Induct You Into The Mile-High-Club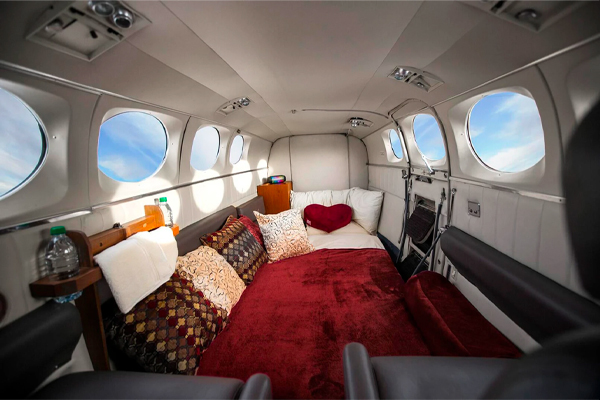 The Love Cloud cabin fits a twin-size bed, decked out in red satin sheets.
When it comes to sexy-time, leave it to Las Vegas… Now for $995, couples can charter a Love Cloud jet for 45 minutes and get busy while your pilot, Blake, flies you to a height of 5,280 feet above Las Vegas. Should that not be enough time to get your propeller spinning, sessions range up to $1,495 for an hour and a half. Seat belts can be ditched two minutes after takeoff.
The Cessna is tricked out with a bed, red satin sheets and "sex position pillow," but don't expect to get too comfy: A twin mattress is all that will fit in the cabin.
When you arrive at the Airport you will be greeted by your very own pilot – Blake – who will walk you to the aircraft and answer any questions you have. Prior to boarding the aircraft he will explain the simple but essential safety instructions and will give you a full safety briefing. Blake, who generally goes by and answers to "Captain Tony," wears noise-canceling headphones and a curtain blocks his view of the action in the back.
Love Cloud also offers a Wedding Flight and Romantic Dinner Flights. These flights, like the Mile-High, rely on time spend on the airplane for the final pricing.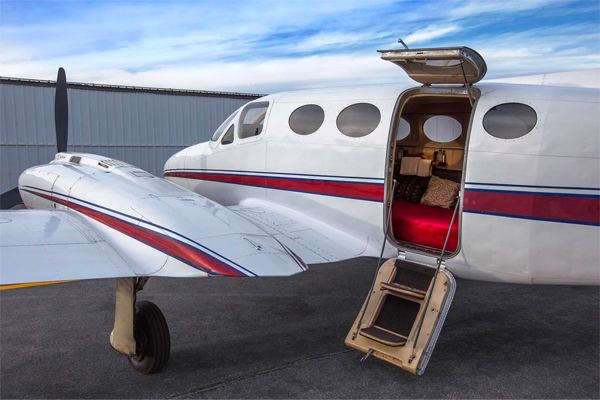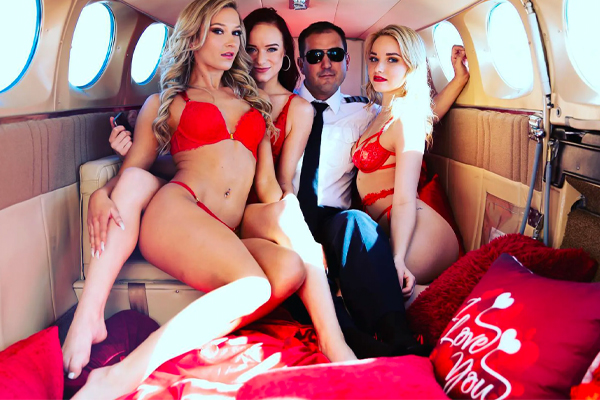 From couples to a group of swingers, the jet is ready for your action.
Customers range from horny newlyweds to older couples in search of lost mojo to a pack of swingers from Europe (six people can be accommodated per flight). After the flight you will be presented with His and Her Mile High Club VIP Certificate Cards and will then have a photo next to the aircraft so that you have both a picture and card to remember your romantic adventure by.
It will only take the pilot 5 to 10 minutes to reach the cruising altitude of 5,280 feet or exactly one mile high above Las Vegas. At that time, your pilot will notify you that it is safe to remove your safety belts. You and your loved one will remain totally undisturbed for that time and the only thing that you will hear is the hum of the engines.
Some Instagram Inspiration To Visit The Love Cloud:
You Might Like These Other Romance Related Articles