It's Never Too Late: Learn A Language And Be Ready For Travel
There are zero downsides to learning a second language, and if you have the time – give it a try. Having some basic language experience will give your career a competitive advantage, enrich your travel experiences, and can even improve your memory and cognition. While both Rosetta and Babel have improved the process of learning a language, it still isn't the easiest of tasks. Language learning should be a fun, immersive, and most importantly, an efficient process and these platforms give that attempt a good go. These are not the only two language learning programs out there, but they are considered the top of the heap.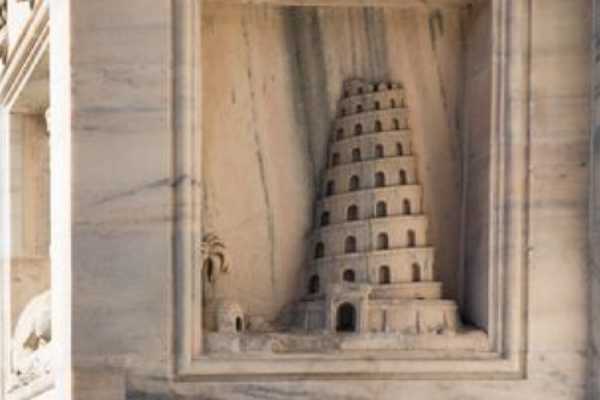 Ornate relief on facade of Milan Cathehdral in Italy showing the Babel tower.
Rosetta Stone Overview
Rosetta Stone is a really well-known name in language learning, and they have really upped their game with their feature-packed app. The lessons only take around 10 minutes – short enough to finish during a morning coffee break. Their app focuses on conversational learning, the acquisition of new phrases, and vocabulary that you would actually use in a real-life conversation. On top of its very engaging lessons, Rosetta Stone's next-level features really set it apart.
Generally, you should find the cost for Rosetta to be $6 per month.
Babbel Overview
Babbel offers 13 languages and on-the-go learning from any of your devices. It uses what is called the "Babbel Method"- well-structured lessons that build on each other with realistic scenarios and interactive dialogues. We were excited to try Babbel because it claims to be "the fastest path to learn a new language."
On the whole you'll find the pricing structure is about $13 per month.
Final Word
There's no downside to learning a new language. Both Rosetta Stone and Babbel have taken this once tedious task and brought it into the 21st century. If you're looking for the language learning app that is most convenient, affordable, interactive, and has the largest range of features, then we recommend Rosetta Stone. It's easy to use, the lessons are bite-sized, and the sheer amount of different features meant that we never got bored. There are tons of options out there, but ultimately if you are committed to learning a second language in the most efficient way possible, Rosetta Stone is the one for you. You'll find yourself picking up words and sentences in no time!