The Ins And Outs Of Pegging:
A Guide From Beginner To Expert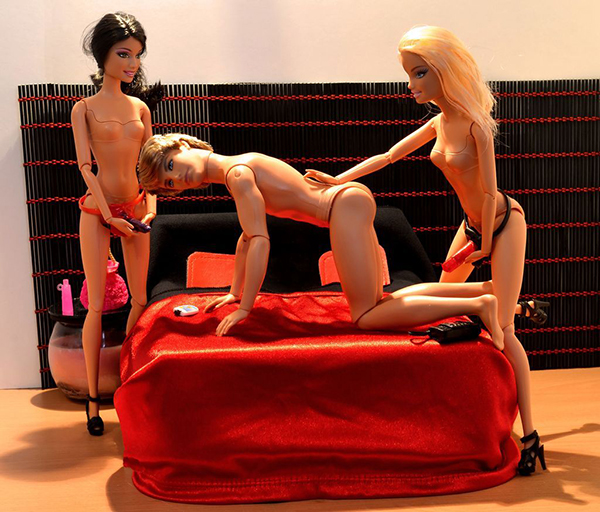 Photo by BatKatCreations.
What is pegging?
Generally speaking, pegging is where a female or vagina-owning partner wears a harness, the harness has a strap-on dildo (don't worry, these can be as big or small as you like), then penetrates the male partner in the anus. Obviously people of all sexualities and gender identities use strap-ons, but the term pegging usually refers to a male/penis-haver being penetrated by the female/vagina-haver). If you're new to this idea then the idea may feel a bit intimidating and scary, but you'll both find that being in charge of the thrusting (and taking control) can be super hot as well as having your partner ride you to orgasm.
In the context of opposite-sex relationships, pegging is largely seen as solely focused on male pleasure due to the presence of the prostate and its stimulation via anal penetration – a trait that is exclusive to biological males. But for many women, for whom sexual acts can be far more cerebral and not only physically pleasurable, there is a lot to be gotten out of it as well as ways to get off while in control.
What is a strap-on?
First, let's talk about the design of a strap-on. Most are composed of harnesses that fit around the top of the legs and pelvic region, and many of these designs incorporate a strand of material (sometimes regular cloth-like material, sometimes more elegant solutions like a beaded strap) that runs between the legs to provide pleasurable sensations to the giver. When donned by a female partner, this strap is designed to create friction caused by the back-and-forth motion of her thrusts. This motion alone can drive a female partner to a clitoral orgasm if she and her man develop a good pace that works for the both of them.
Some of our favorite harnesses:
(click on item below to see purchase options)
What does a Woman get out of Pegging?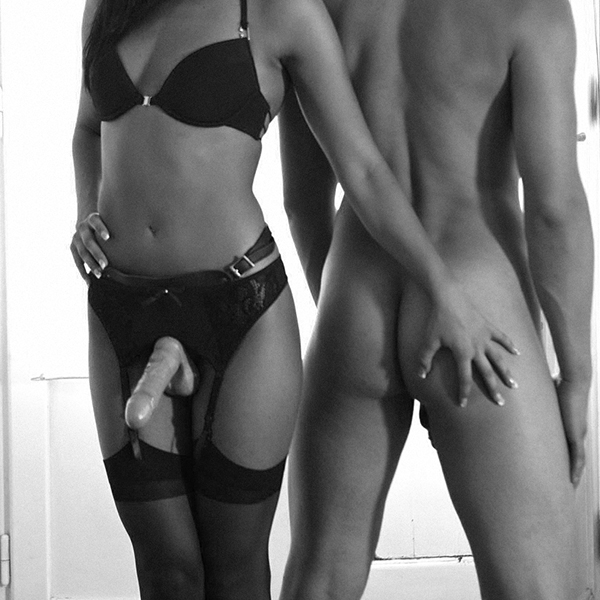 Some women find they can orgasm while pegging their man, too. There is a variety of strap-ons, some with vibrators. Some women enjoy the reversal of being the penetrator and watching their man be receptive and vulnerable. They enjoy… "running the fuck." There is also the taboo aspect – a turn-on for some. "Forbidden Fruit," as it were. Another female turn on are the sounds of her partner moaning in satisfaction, for example, could get her rocks off in no time flat. A lot of women say that their male partners tend to create less noise when they are the ones doing the giving, but it takes a total 180 degrees when the man is on the receiving end.
For many women, sex inherently has to do with vulnerability. Being naked and getting fucked can be thrilling in the way that you are entirely bare and exposed, and it also requires a fair amount of trust. When vulnerability and genuine trust intersect, men and women can both feel empowered in their sexuality. And sometimes, it's nice for the woman to not have to be in the position of vulnerability. Pegging, or any form of anal play wherein the man is the receiver, can unlock new doors that, when entered, provide more knowledge about our bodies, our lovers' bodies and what gets us off.
Let's look at some of our favorite pegging couples: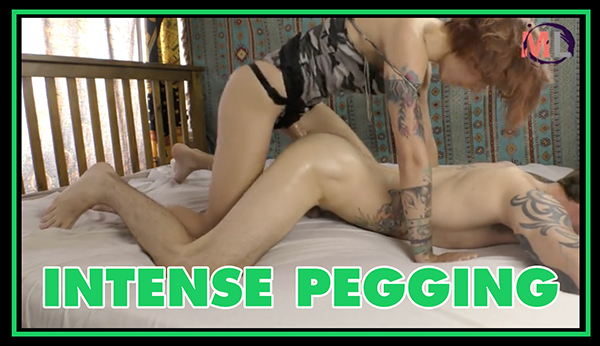 Masquerade Lovers – Intense Pegging Session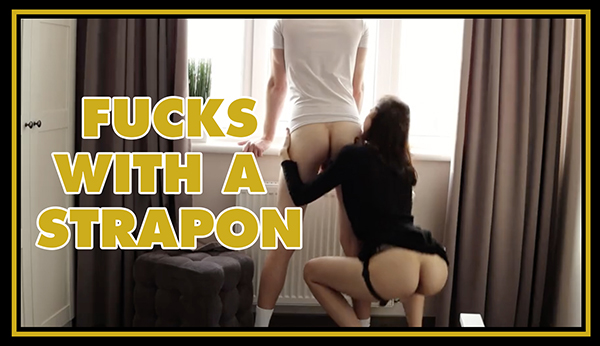 Mary Cherry Fucks With A Strapon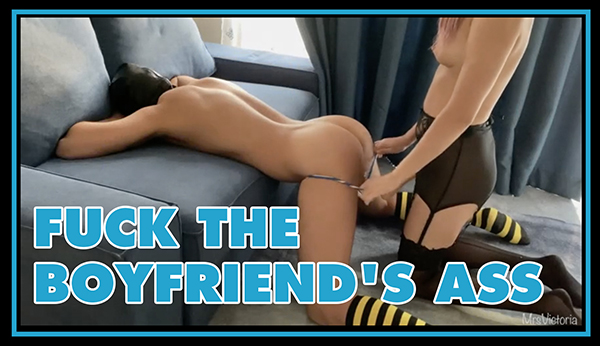 Mrs. Victoria Fucks The Boyfriend's Ass
Communicate About What You Expect
Pegging won't be like it is in porn – especially if you haven't been experimenting for a while. You have to practice pegging the way that works for you and your partner. So first you need to talk about it! This can be uncomfortable, even in decades-old relationships, like anything new. If pegging is something that you want to try, there's no reason not to bring it up, even if it comes as a surprise. Even though porn might not be what you'll experience out of the gate, try viewing pornographic videos together as that will open the conversation and narrow what you want to try and don't want to do.
Make sure you are both relaxed.
Have the important stuff on-hand.
Foreplay, foreplay, foreplay!
Let him set the pace.
We're not going to get into the preparation or the trial and error. You'll need to do some research on preparing the ass for insertables, rest assured it isn't as scary as you may think. You're also not going to be a pro the first time. Prepare to waste a little time warming up to the idea and that you'll be disappointed and will need practice. Lots of practice. If, however, you've made it past some initial prostate play and some other toys – consider that the warm up and that you're ready for the main event. Don't discourage if you don't have an anal orgasm or shoot a fountain of cum, that takes time and remember there's a lot going on down there; remember use plenty of lube.
Some of our favorite harnesses:
(click on item below to see purchase options)
How Elusive Is The Hands Free Orgasm?
A lot of peggers are seeking the hands-free-orgasm. The male equivalent of the female G-Spot is known as the P-Spot in men. This would be the prostate, the male sexual gland that aids in the projection of semen down the urethra. We know for a fact that the prostate exists, but what we don't consider common knowledge (at all) is how it truly aids in helping men to have a fulfilling and intense sexual experience.
Orgasm via the prostate (and no penis stimulation) is not only possible but probable after learning what method of stimulation gets you off. Prostate orgasms can be dry (no semen) or wet. Because they are most often dry, there is no refractory period where the body rests after expulsion of semen, so multiple male orgasms are quite possible with no hands on the penis!
A HFO (hands free orgasm) is nothing like traditional masturbation. It cannot be forced like masturbation. Masturbation coerces the orgasm out of the body. Faster, harder, more intensity may not yield the result; remember the penis is not involved. Do not connect orgasm to the penis. The primary components of a successful HFO are a combination of arousal and visualization. You will be discovering a different way to have an orgasm. Touching the penis will start your body's muscle memory and will detour you back to traditional penile orgasm.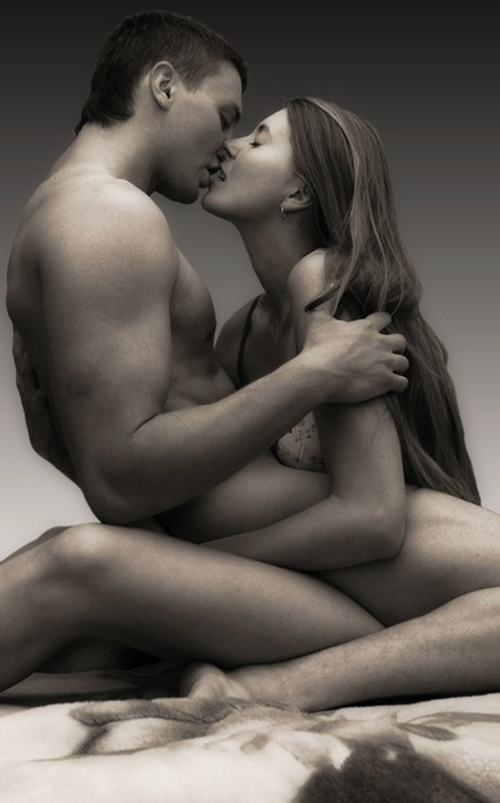 Massaging the prostate results in what is referred to as "milking" of this pleasure-producing gland. The journey to a HFO is finding the many enjoyable methods to get there. Erotic Hypnosis, Erotic Breathing, Nipple Stimulation, Prostate Massage, Erotic ASMR, Meditation, Erotic Touch (no penis) Flexing PC muscles will help. Meditation and erotic hypnosis is useful as it distracts you from normal routine of pleasure. Think of a HFO as a higher state of mind.
Try it, you might like it!
Why not give it a starring role for a change, if for no other reason than to see what it's like, and if you like it? Your body shouldn't be a stranger to you, and opening yourself up to these experiences-even if they make you feel a bit vulnerable at first-with a partner can bring a sense of intimacy and closeness to your relationship.
Be daring. Explore this final frontier of the male P-Spot to your heart's content. You have nothing holding you back once you know how your prostate works and the numerous ways that you can incorporate it into masturbation or love-making.
Find Some Pegging Inspiration On Social Media: