Gatlinburg, Tennessee
Gateway To The Smoky Mountains
With three entrances to Great Smoky Mountains National Park located in the heart of downtown Gatlinburg, it's no surprise that visiting the park is the most popular attraction in this eastern Tennessee town. In fact, it's such a hit that Gatlinburg's population balloons during peak tourist season from less than 4,000 residents to more than 40,000. With miles of trails for hiking, biking and horseback riding, as well as historical exhibits and cabins, and the opportunity to view black bears, elk, deer and other wildlife in their natural habitat, it's easy to see why the park is such a hot spot. When you're not in the park enjoying its natural wonders, you'll likely spend time admiring it from several of Gatlinburg's top attractions, including the Gatlinburg Space Needle and the Ober Gatlinburg Aerial Tramway.
Great Smoky Mountains National Park
One of only a few national parks that do not charge an admission fee and also the most visited. The 522,427-acre park is shared by Tennessee and North Carolina with the border running through the center. In addition to hiking, biking and horseback riding trails, the park offers historical exhibits, including original Appalachian cabins, and scenic drives to popular spots like Cades Cove and the waterfalls on the Roaring Fork Motor Trail. Start at the Sugarland Visitor Center to get an overview of the area's history and pick up trail maps, or head to what is known as "the locals entrance" at Greenbrier a little more than 2 miles east of Gatlinburg.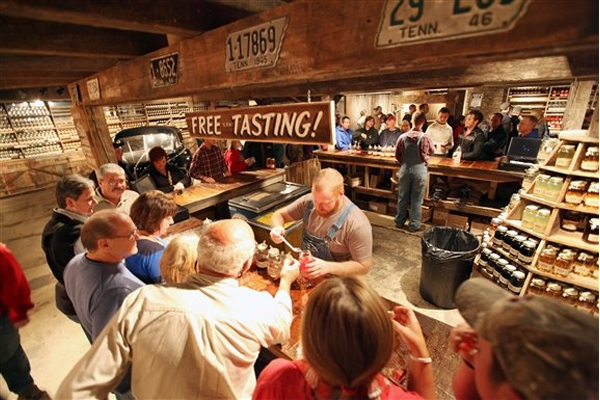 Mountain Moonshine Tastings
Moonshine tastings have become one of the trendiest activities in Gatlinburg for visitors. The Appalachian tradition of making moonshine in hidden mountain stills took hold in the early 20th century. Visitors to Sugarlands Distilling Company, named for the area filled with sugar maple trees, don't mind the 15-minute wait for the free moonshine tasting. Nearby, the Ole Smoky Distillery received kudos for its tastings and free live bluegrass music. Many visitors claim this a must-do and some congregated daily in the rocking chairs in front of the open-air stage to listen to the music.
Ober Gatlinburg Aerial Tramway
For a bird's-eye view of the Gatlinburg area and the Smokies, hop on the Ober Gatlinburg Aerial Tramway, one of the country's largest tramways. Catch the tram in downtown Gatlinburg for a 2.1-mile ride up the mountain to its peak at 11,088 feet.
Gatlinburg Space Needle
This 407-foot tower overlooks the town of Gatlinburg and offers 360-degree views of the Smoky Mountains. The observation deck is equipped with viewfinders and educational exhibits that detail the history of the town and the surrounding mountains.
Gatlinburg Arts & Crafts Community
If you're interested in art and authentic Appalachian crafts, you'll want to spend a day exploring the 8-mile Arts & Crafts loop in and around Gatlinburg. Watch mountain craftsmen and women make brooms, baskets and pottery at the Arrowmont School of Arts.
Ober Gatlinburg Amusement Park and Ski Area
The Ober Gatlinburg Amusement Park and Ski Area is open 365 days a year. During the winter months from mid-December to mid-March, skiers and snowboarders hit the slopes and even non-skiers enjoy snow tubing. The amusement park, which offers several rides, including a mountain coaster, an indoor ice skating rink, a kiddie park, shops and restaurants and a small zoo, is open throughout the year. Although the resort itself does not offer accommodations, its location just a few miles from Gatlinburg makes it easy to find lodging. You can drive up to the resort (weather permitting) or take the aerial tram from downtown.
Ripley's Aquarium of the Smokies
One of the most popular attractions for children, Ripley's Aquarium of the Smokies offers unique opportunities to get up close and personal with a wide variety of marine life. You can pet a penguin, splash around with a stingray in Touch a Ray Bay or take a behind-the-scenes tour. A people mover takes you through an underwater tunnel, where you can watch green sea turtles, big snappers, tarpons and sharks through the floor-to-ceiling glass wall.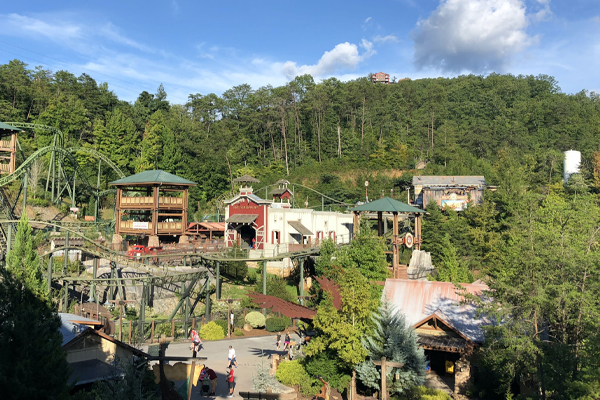 Dollywood Amusement Park
While technically not in Gatlinburg, it is only 10 miles north in Pigeon Forge. Dollywood is an amusement park jointly owned by entertainer Dolly Parton and Herschend Family Entertainment. Hosting nearly 3 million guests in a typical season – mid-March to the Christmas holidays – Dollywood is the biggest ticketed tourist attraction in Tennessee. In addition to standard amusement park thrill rides, Dollywood features traditional crafts and music of the Smoky Mountain area. The park hosts a number of concerts and musical events each year, including appearances by Dolly Parton and her family as well as other national and local musical acts. It is also the site of the Southern Gospel Museum and Hall of Fame.