Adult Life For The Sexier Side Of New Orleans
There is much to say about the best breakfast in New Orleans and you could most likely spend months trying them all. These are a few of our favorites that continue to land high on the list. Don't limit yourself to this list, there are hundreds of great finds out there – but this is a pretty good place to start.
Get oysters and Champagne
Louisiana is flush with bivalves, which in turn will make you flush, seeing as they've long been known as a natural aphrodisiac. Oyster specials (and even free oysters!) abound here, though we recommend getting in the mood by popping a bottle of bubbly to go with your raw oysters during happy hour at Lüke.
Check Out Drag Brunch
The first and third Saturdays of each month, you'll find one hell of a brunch at The Country Club, featuring not just bottomless mimosas, but also a spectacular drag performance. Drag Brunch is every Saturday and Sunday. Showtimes are at 11 a.m. and 1 p.m. Make reservations early as they stay booked up several months in advance.
Relaxing Afternoon Spa Massage
It isn't easy to find a good day spa in the Big Easy. Please don't seek out the local rub and tug – you'll be disappointed. Our choice for the body rub is Spa Aria, a cozy retreat tucked within the exquisite Monteleone Hotel. A 60 minute couples massage will run you about $300. Our second choice is the Ritz Carlton Spa which offers a VooDoo massage and bath.
Peep The Dirty Dime Peepshow
Some of the best burlesque in the city can be found over in the Marigny at this classic performance, an experience that's not just sexy, but fun and edgy (and often quite weird) to boot. This, friends, is the cutting edge of burlesque, with performers coming in from all over the country.
Check Out Burlesque Featuring Trixie Minx
Time To See Some Naked Girls On A Pole
The french quarter is riddled with strip clubs and they're easy to find. The Penthouse is one of our favs and during the holidays they have naked sushi girls. There is also Larry Flynt's Barely Legal Club on Bourbon Street, which has a nice VIP room. We can also recommend Rick's Cabaret, which is more cabaret than naked girls on a pole; chances are your significant other will enjoy this the most.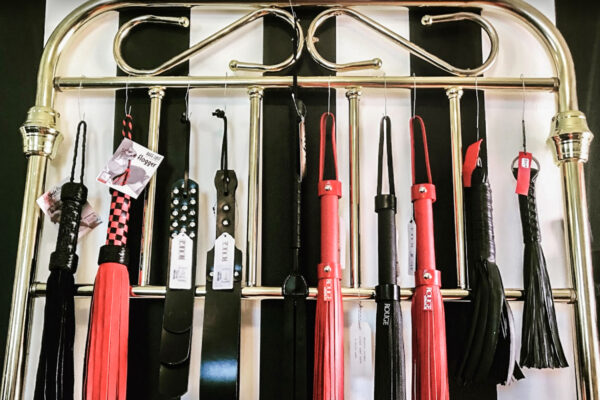 Suit Up, You Need Some Gear
There are plenty of adult stores in New Orleans. We have a short list. Try Dynamo for some of the more unusual needs. This is a privately owned local store – not some chain. Located near NOLA's only leather bar (Phoenix Bar), stop by and pick a little something up for later. Trashy Diva Lingerie Boutique is a must stop for your sexy outfit for later. And right on Bourbon Street you'll find HUSTLER Hollywood, the biggest and largest selection in the city.
Join A Secret Society, But Don't Tell Anyone
Prive means "private"… and we do mean private. With a courtyard pool enclosed on all sides, guests can be as sensual and as bare as you dare outside, seen only by those who are on your level. It's a pleasure space to party with other community lifestyle couples whenever you'd like, a fun and intimate oasis where you can stop by at your leisure or walk out of your apartment and experience the freedom to be however you please.
Explore Your Bliss with A Holistic Sex Practitioner
Madison Holistic provides a luxury experience in their sophisticated studio space in downtown NOLA. Everyone is passionate and skilled, each with her own style and flare for the art of touch. You'll have to call and find out their recommendations to fit your needs. We recommend the couples treatment.
Be Naughty in N'awlins At A Swingers Convention
It is the biggest swingers convention in a city long known for sin. We'll just leave that right there for you and let you imagine the rest. Naughty N'awlins isn't just a bunch of parties, they bring in the top entertainers and educators to entertain you each day and evening, giving you a world class event. Each night you can go to the main dance, or you can check out the amazing lineup of talented performers or do both.
Play In A BDSM Dungeon With A Mistress
Mistress Genevieve's dungeon is located about 4 blocks from the French Quarter. One of the best play spaces in the city. You can rent out the dungeon or make a play date with the mistress, she even has a cage for those over night occasions. Complete with all the adult toys you'll ever need.
Warmed Up? It's Time To Hit The Gay Bars
The line between gay and straight bars is a blurry one in New Orleans. Home to Mardi Gras, all of New Orleans is a bit flamboyant. There are lively dance clubs, as well as neighborhood Cheers-style watering holes. There are gay and gay-friendly bars all over town, but the most famous are Café Lafitte's in Exile, the oldest continuously operating gay bar in the United States. Also check out The OZ, The Friendly Bar and Rawhide 2010.
Perhaps The Sex Club Should Be First And Last
Are you part of the "lifestyle"? Well, if that's the case, Colette is known to be one of the finer swingers clubs in the Big Sleazy. From "Wicked Wednesdays" to "Newbie Night," "Glow parties," "Stockings and Stilettos," and, naturally, "Pantiless Fridays," Colette always promises a sexy good time, if you have the courage to indulge. Expect just slightly tamer than Caligula and you won't be disappointed. These folks know how to do it up right!